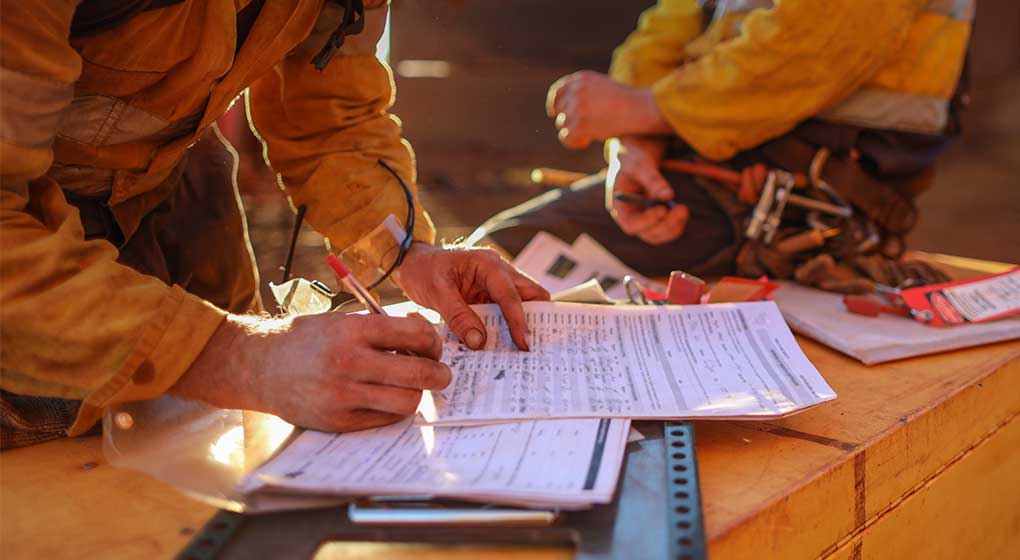 Mines and mineral processing, Ramén, 16 February
How to look after valves to avoid stoppages and accidents in the mine
Incorrect management of the valves in an enrichment plant can result in high maintenance costs, production failures and, in a worst-case scenario, personal injuries. Staff need to have the right knowledge if they are to take care of them properly. Especially when it comes to regulating valves.
"Do we have anyone here who knows anything about ball sector valves?"
You need to know what you are doing if you are going to replace the ball in a ball sector valve. There is a lot to keep track of, from avoiding pinch hazards and fitting the valve in the right direction and at the right angle to tightening the bolts to the right torque. Plenty of scope for the "human factor", in other words.
No wonder many companies replace the whole valve instead of just the broken part so as to avoid risks. But keeping only complete valves in stock to replace existing ones during planned downtime is an expensive maintenance strategy.
If you are a project manager or maintenance manager for a plant and recognise this, there are two things you can do. One the one hand, you can make sure your technical staff receive training on how to take care of the valves. On the other, you can choose valves with a long service life and that are easier to replace and maintain.
The right procedures from delivery to replacement
Looking at ball sector valves, what do you specifically need to think about?
It all starts when the valves are delivered. Check that they match the order and were not damaged in transit.
The label shows the characteristics of the product and must include the correct pressure class, size, type, material code, material and any CE marking.
Valves are marked with individual serial numbers so that they can be identified and traced. Ask the supplier to mark the valve with its unique position number in the plant, what is known as the TAG number. The TAG number is then also indicated in the PID drawing of the plant that describes the components and where it is located. This will make the product traceable, which can help to avoid misunderstandings and mistakes.
There must also be a material certificate according to standard EN 10204, known as a 3.1 or 3.2 certificate. This shows what the valve is made of and allows it to be traced back to the supplier.
Store valves in open position where they are not at risk of corrosion or soiling, and keep the cover on. If they have rubber linings, it is important for them to be stored in the dark, as rubber ages more quickly when exposed to UV radiation in sunlight.
Each valve has a maximum and minimum permissible temperature and a maximum and minimum permissible working pressure depending on its design and the temperature to which it is exposed.
Before installing a valve, check that its data matches the process media, pressure and temperature. Pipes must be cleaned and free of contaminants or other debris that could damage the valve during commissioning.
Always fit the valve according to the supplier's instructions. It is extremely important to consult the supplier's documentation on how to install the valve so as to achieve the best and safest operation. Different valves may have different restrictions on how they can be mounted – horizontally or vertically, for example. Failure to follow these instructions increases the risk of leakage causing personal injury or damage to the equipment. For example, a flammable medium may cause a fire if it comes into contact with electrical components or hot objects.
If the valve has an actuator, test it before commissioning. Check that it closes and opens properly and that the ball sector works between the desired max and min positions.
Avoid changing mechanical stops in the valve without consulting the manufacturer. The valve may be damaged if the angle of rotation is exceeded during operation, installation or assembly.
Compressed air, electrical connections and control signals must be disconnected before disassembling the valve from the pipeline. Actuators with a built-in spring for what is known as the failsafe or spring return position must be set in the position in which the spring is not tensioned. The spring may cause serious personal injury if it releases its force during servicing. Here, too, follow the suppliers' instructions – and in reverse order during installation.
Keep the maintenance schedule up to date
The maintenance team needs to be aware of when it is time to inspect the production line and what it should look like. The maintenance schedule needs to be updated so that the drawings show the latest installations and changes. Otherwise, it is easy to miss small discrepancies that can lead to major problems. Also require the supplier to clearly mark all equipment so that it is visible even if the operating environment is dirty and dark. Otherwise, it can be difficult to be sure of what you are looking at.
Train staff – and define requirements for the supplier
It is easy to underestimate the demands on the technicians who will be performing the tasks. New staff who lack experience and skills can easily make mistakes, which is not surprising.
Training is absolutely essential when it comes to ensuring correct assembly, maintenance and disassembly. Ask whether your supplier offers training on this.
But even if you put your technicians through a training programme, this is no substitute for a good relationship with a manufacturer who can provide the necessary specialist expertise. Make demands of your suppliers and choose one that gives you what you need and helps you build your own expertise.
• If you would like to know more about how to ensure the reliability of your mining production, please download our guide "Valves in mining enrichment – how to ensure operation (and avoid unplanned downtime)" ⇓
• Do you want to know more about our
Ramén KSG
rubber lined valve, specially designed for the mining industry?
Read here
.
• If you have any questions about how we can help you with the installation and maintenance of control valves, please contact us.
• Keep reading, go to the next article >>
---
Ramén Valves has been a valued partner to the mining industry for 40 years. We supply valve solutions for applications commonly involving abrasive media.