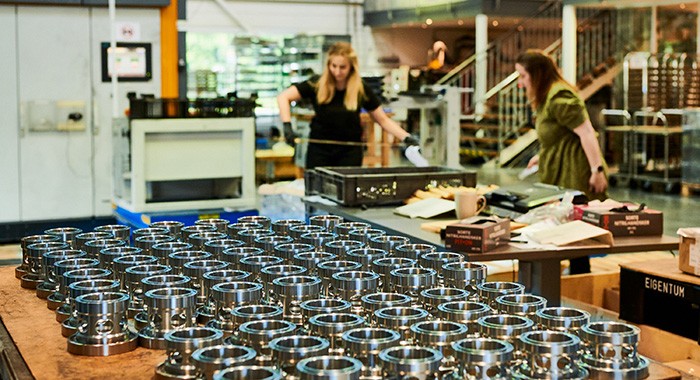 Innovation, Ramén Valves, SuperExpanite, 19 April
Why choose SuperExpanite® over hard chroming in Valves? A highlight of all the advantages
Ramén Valves reinforces its commitment to achieve a more sustainable production process, by adopting the more environmentally friendly SuperExpanite® treatment as its standard hardening treatment, replacing hard chroming. By embracing SuperExpanite®, Ramén Valves aims to provide its customers with superior, long-lasting, and environmentally responsible valve solutions for diverse industrial applications. This decision stems from SuperExpanite's® numerous advantages over hard chroming, including wear resistance, galling resistance, environmental sustainability, and corrosion resistance.
This article highlights the numerous advantages of SuperExpanite® and explains why Ramén Valves has chosen to adopt this innovative surface treatment.
Ideal for abrasive media thanks to increased hardness
Hard chromed coatings typically have a hardness of HV 900-1,000, while SuperExpanite® achieves HV* 1,200±100 (usually in the range of 1100-1200). The increased hardness of Ramén Valves' products treated with SuperExpanite® will therefore give the products a better wear resistance, making them ideal for applications involving abrasive materials.
*The Vickers hardness test is a method to measure the hardness of materials. The basic principle, as with all common measures of hardness, is to observe a material's ability to resist plastic deformation from a standard source. The unit of hardness given by the test is known as the Vickers Pyramid Number (HV). 
Better Galling Resistance
The SuperExpanite® treatment as well as hard chroming result in good resistance to galling. However, the inherent cracks in hard chromed coatings can initiate scuffing of the partnering surface, which may result in galling. The SuperExpanite hardened surface is however crack free, thus offering an improved galling resistance in comparison.
A wider range of applications thanks to improved corrosion resistance
The SuperExpanite® treatment does not negatively affect the corrosion resistance of the base material, it can even enhance the corrosion resistance of stainless steel 316L. Hard chroming, on the other hand creates a layer on the base material that can be incompatible with certain media, due to corrosion. For instance, hard chromed coatings are not compatible with sulfuric acid and phosphoric acid. While stainless steel 316L or 254SMO treated with SuperExpanite®, that Ramén Valves provides as standard, can be used depending on the concentration content and temperature. This means Ramén Valves solutions with SuperExpanite® treatment can be used in applications where the use of hard chroming would be prohibited.
Increased lifetime in abrasive applications
The SuperExpanite® treatment can be utilized in Ramén Valves components that traditionally were not treated by hard chroming, for example the body. With the increased hardness that SuperExpanite® brings, this results in an increased lifetime when valves are used in very abrasive applications.
Hardened surface layer thickness
Hard chromed coatings are foreign layers formed on top of the base material surface, making them prone to flaking, cracking, and delamination. The SuperExpanite® processes, on the other hand are diffusion processes, creating a hardened case based on the base material alloy, without the risk of cracking, flaking, or delamination. The SuperExpanite® treatment results in a hardened surface layer of typically 20µm. While it is possible to produce thicker hard chrome coatings, this often leads to more post-grinding due to the pronounced edge effect of hard chrome.
Less environmental impact
From a sustainability point of view, the SuperExpanite® process is more environmentally friendly compared to hard chroming, and the lifetime of the valves is increased.
The SuperExpanite® processes neither depletes natural/geological resources nor produce polluted wastewater. It also boasts a low energy consumption of 1.9 kWh/kg. Conversely, hard chroming is a low-efficiency process, wasting at least 70% of electric energy. Hard chroming also involves the use of harmful chemicals such as chromic acid, sulfuric acid, lead, lead chromate, and lead oxide whereas SuperExpanite® uses no harmful chemicals at all.