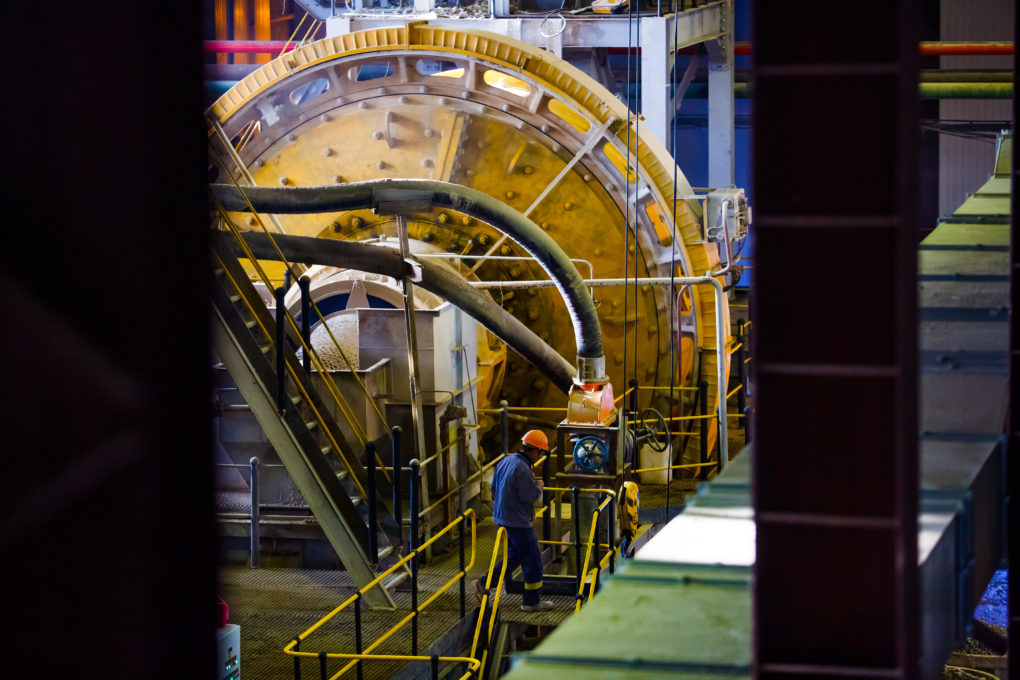 Mines and mineral processing, Ramén, 09 March
How to make your work environment safer – focus on valves
Valves may not be the first thing you think of when it comes to a safe work environment in the mining industry. But the fact is that the wrong valves, incorrect installation and incorrect maintenance pose a risk to personnel, the environment and operational safety.
What happens in the pipes should stay in the pipes. And there are a number of laws and regulations to keep track of and comply with.
This is what you need to bear in mind.
Risks in mining production
The employer holds primary responsibility for the work environment and is obliged to carry out systematic work environment management, i.e. to examine the work environment regularly to see what risks are present and to remedy any risks detected. The work environment in the mining industry is hazardous, with everything from darkness and the risk of collapse to dust and radon gas. It is easy to focus on the work environment in the mine. We would like to strike a blow here for the work environment at the enrichment plant, and an important part of the production equipment: the valves.
Poor knowledge of valves increases risks
An unplanned release is not just dirty and unpleasant. A medium leaking from a pipe, valve or pump can destroy other equipment. It can be expensive to restore it, not to mention the cost of downtime. The medium is hazardous to the health of the personnel who have to deal with it if it contains chemicals, gas or any other toxic or corrosive component.
A leak may cause slippery floors or, if things go very wrong, give staff a very unhealthy shower.
A valve with the wrong pressure class might even explode.
Chemicals, superheated steam and dust in the same space as people quite simply equate to health risks.
Assembly and disassembly of valves is a critical step. Uncorrect handling may harm personnel or equipment while work is being carried out; and it can turn the equipment into a ticking time bomb. This is why it is so important for technicians to learn all about the suppliers' instructions.
Work Environment Act
The Swedish Work Environment Authority's (AV's) regulations for mining and quarrying (AFS 2010:1) address risks and measures to prevent ill-health and accidents, such as appropriate working methods, equipment, ventilation and evacuation. By their very nature, they are based primarily on mining rather than the work at an enrichment plant.
However, AV also has special regulations for pressure vessels, vacuum vessels, pipelines and tanks, for example – more about that soon.
SIL – reducing the risk of injury caused by technical equipment
Safety Integrity Level, SIL is part of the standard IEC 61508 and is a safety rating indicating the risks of being near technical equipment. SIL is designed primarily for digital security systems. IEC 61508 specifies 4 safety integrity levels, 4 being the highest level. When building an SIL-rated safety system for a plant, you first identify the safety functions, perform a risk analysis and specify the safety requirements. Based on this, the SIL system is designed and verified to ensure that the right level of integrity has been achieved. Only then is it built. For example, if the system includes a "pressurised device", the owner is obliged to have a competent organisation check the safety system.
A SIL rating increases production safety and uptime and reduces the risk of downtime.
ATEX classification plan minimises explosion risks
ATEX requirements/level: perform a risk analysis. Classification plan.
The Products Directive and the Work Directive are two important laws that regulate what equipment is allowed in areas where there is a risk of gas or dust explosion. Metal dust or other flammable dust may suffice.
These are usually referred to as ATEX, after the French ATmosphere EXplosible. If a plant handles flammable gases and liquids, the person carrying out the activity must assess the risk of gas or vapour being formed in the air in sufficient concentration to ignite, known as an explosive atmosphere. The risk of ignition must also be assessed. The person responsible for the plant is also obliged to ensure that a classification plan is drawn up for the area, which then determines the requirements for the equipment.
All equipment in a classified area must meet the requirements. For example, it can be intrinsically safe (EX ia) or explosion-proof (Ex d). Intrinsically safe means that the equipment cannot produce a spark or enough energy to ignite an atmosphere. Explosion-proof means that the equipment is enclosed so that any spark or energy cannot ignite the atmosphere outside the enclosure.
Always check the ATEX classification of the valve and its components to avoid unnecessary risks.
Check the CE marking
A CE mark on a product means that the manufacturer certifies that the products comply with EU health and safety requirements. All valves must be CE-marked, and your supplier must be able to explain what the CE marking stands for. A CE-marked product must be accompanied by a "declaration of conformity", a document in which the manufacturer declares that the product is compliant with EU safety requirements. This means:
that the manufacturer declares at its own risk that the EU's essential health and safety requirements are met.
that there is documentation in Swedish in the form of installation and maintenance instructions
that all necessary signs, markings and instructions for use and maintenance are present.
Instructions for use in Swedish must always accompany the CE-marked product.
Pressurised plants
Pressurised equipment is work equipment that entails specific risks, not least leakage and external damage. The regulations state that work must be planned, organised and carried out in such a way that dangerous situations do not arise. Safety work must be ongoing and include:
Risk assessments
Inspection, maintenance and control of the devices
Information to staff so that they are aware of the risks
Correct location and temperature
Measures for filling and emptying, such as securely attached hoses
Protection to prevent damage to components – or worse, injuries that might be caused by overpressure or underpressure – is a legal requirement in many cases.
In a mining environment, there are many types of installations that handle media with overpressure. Examples include compressed air, instrument air, high-pressure washing for flushing and steam for cleaning. Pressure Equipment Directive Pressure equipment (AFS 2016:1) is defined as installations at pressures of 0.5 bar or higher. Installations and plants must be protected so that they do not fail, or – in a worst-case scenario – cause an explosion or implode in the event of negative pressure. Use and inspection of pressure equipment (AFS 2017:3) regulates safety valves and their regular inspection.
There are no laws for negative pressure and vacuum, but well recommended industry standards and practices are in place. Check with your supplier on how best to protect parts that may be exposed to negative and positive pressure.
If you would like to know more about how to ensure the reliability of your mining production:
• Click on the image below to download our guide "Valves in mining enrichment – how to ensure operation (and avoid unplanned downtime)" ⇓
• Do you want to know more about our
Ramén KSG
rubber lined valve, specially designed for the mining industry?
Read here
.
---
Ramén Valves has been a valued partner to the mining industry for 40 years. We supply valve solutions for applications commonly involving abrasive media.