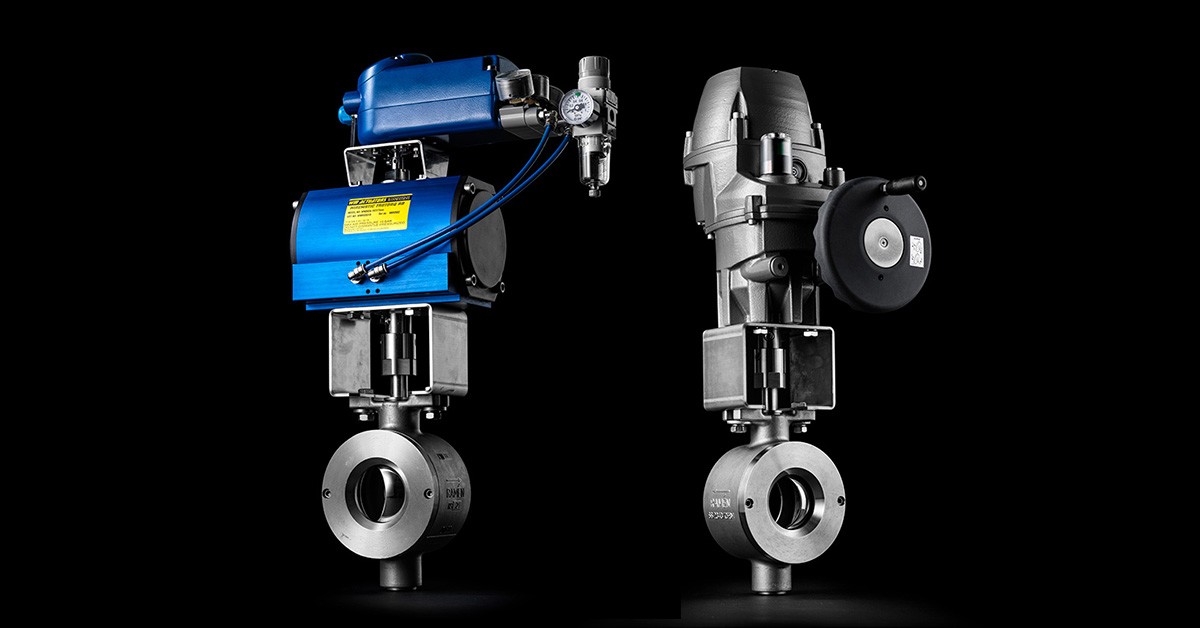 Ramén Valves, 06 October
How to choose automation for industrial valves
In the past, valves were operated by hand. Nowadays, they are controlled and monitored by a higher-level digital control system.
Valve automation means that the valve is equipped with a control element (actuator), a mechanical device that changes the position of the valve. Automation is often pneumatically or electrically driven but can also be hydraulic.
By choosing the right automation, you can enhance process efficiency and optimize overall operations.
Here are some key factors to consider when choosing automation for your valve:
The function of the valve
The control method
The mechanical aspects
This article provides a brief overview of these factors and discusses different automation solutions. Download our guide to learn more about each type and segment.
The function of the valve
The control element in valves can be set to optimise the process.
The function of the valve is a good starting point. Should it just close and open, or should it control a flow? What do we want to achieve in the process – a specific flow, a specific pressure, a specific level or a specific temperature?
Opting for cheaper products may compromise process parameters such as maintaining the correct temperature or achieving a stable flow rate.
It is also necessary to consider the technical requirements of the plant. There is no point in choosing valves with advanced control equipment interfacing to digital communication systems such as Profibus, Foundation Fieldbus, Ethernet or HART if there will be no other equipment to talk to. However, if the valve is to be connected to one of these systems, make sure they support the industry protocol that applies to the plant.
Control method
Valves can be controlled using various methods and technologies, depending on the specific application, industry, and desired level of control. Here are different ways of controlling valves:
Electrically – Electric actuators use an electric motor to drive the valve's movement. They can be easily integrated into automated systems and controlled remotely. Electric control offers precise positioning and feedback options.
Pneumatic – Pneumatic control involves using compressed air to operate the valve. Pneumatic actuators can be used to open and close the valve based on changes in air pressure, making them suitable for quick and precise control.
Hydraulic –Hydraulic control uses fluid pressure to operate the valve. Hydraulic actuators provide smooth and powerful control, making them suitable for heavy-duty applications and situations where high tourqe is required.
Mechanical aspects
An important factor when choosing automation is what is needed to mount the valve mechanically. ISO 5211, VDI/VDE or Namur are standards for the mechanical coupling (interface) between valve and actuator. They also specify the standard for the coupling between actuator and positioner (or limit switch). The product type and manufacturer determine which standard applies.
It is important to know who takes responsibility for the functioning of the valve when different parts are assembled by different parties.
We always know how the interface between different parts are dimensioned. For example, larger valves have much greater forces to handle than smaller ones and should be able to do so for a long time. By sizing the valves correctly, we ensure that the mechanical interfaces are correct, and can therefore guarantee long trouble-free operation regardless of external conditions.
At Ramén Valves, all our valves are fitted with standard mounting kits as per ISO 5211, with special anti-backlash coupling to avoid any hysteresis that would compromise the controllability and accuracy of our solution.
Different types of mechanical couplings
Mechanical couplings are used to connect valves to other components. There are several types of couplings, each with its own advantages and applications. Here are some of the different types that we dig further into in the guide:
Backlash free couplings – why are they needed and when does it not matter?
Why is bracket and coupling between valve and actuator always preferred vs direct mount?
What is the square in the datasheet of the valve and the actuator (star coupling)?
What is the F unit?
Different actuators
In our guide, we also go over the various types of actuators and their characteristics.
Diaphragm vs piston actuators
Scotch yoke vs rack and pinion type actuator
Spring-return vs double-acting actuators
Choosing Between Analog and Digital Positioners